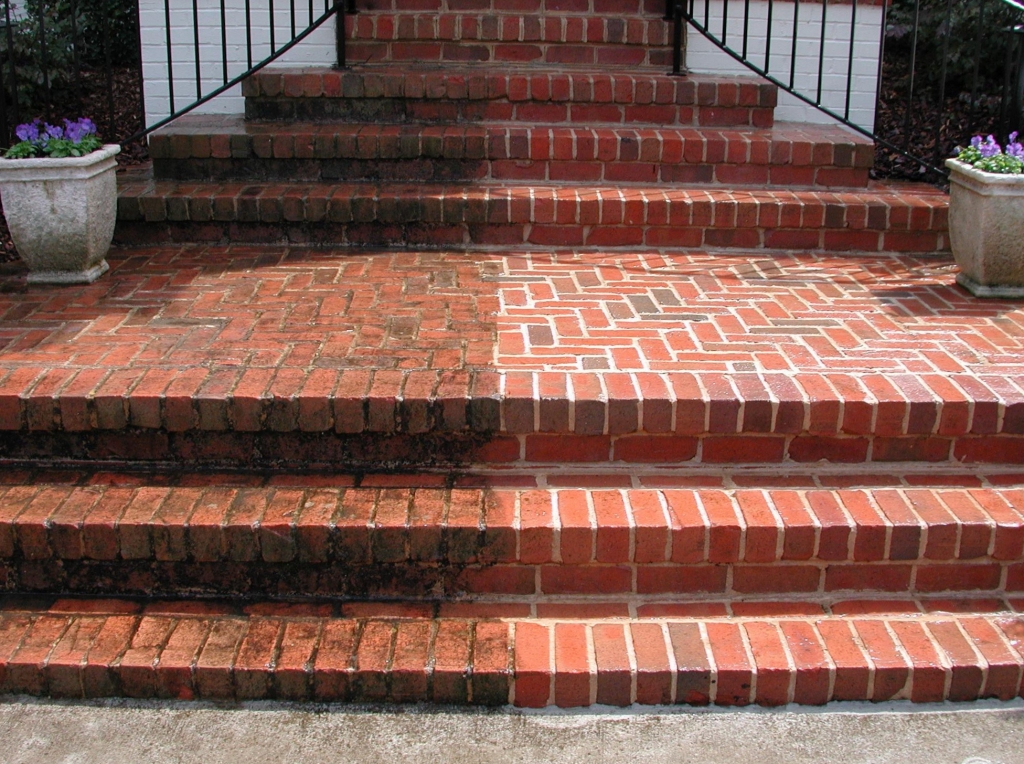 Ask any home maintenance professional and they will be able to list a range of benefits of concrete pavers. Easy to install, cost-effective, durable and more visually appealing than a slab of plain concrete.
On the other hand, ask any homeowner and they will all have the same complaint about concrete pavers; They are an absolute nightmare to clean.
Whether you have a paved driveway, footpath, patio or pool surround, you will have that constant challenge of keeping your pavers clean without losing your sanity. Sure, a weekly blast with your blower will keep the leaves off and doesn't take too much time.
But how can you really clean those dirty pavers?
Why do pavers get dirty? Footmarks, barbeques, extreme weather conditions, scratches and scrapes, mould, mildew, charcoal, oil stains and tyre marks are just some of the examples that can cause your pavers to look aged and decrease the kerb appeal of your property.
But how can you quickly and easily remove mould, grime and oil stains? Once your pavers are stained, does that mean that your driveway is permanently disgraced into having stains and discolorations for time indefinite?
Before you grab a tin of paint and try and slap a coat of paint on your pavers, there is simple and highly-effective cleaning technique that you need to try.
---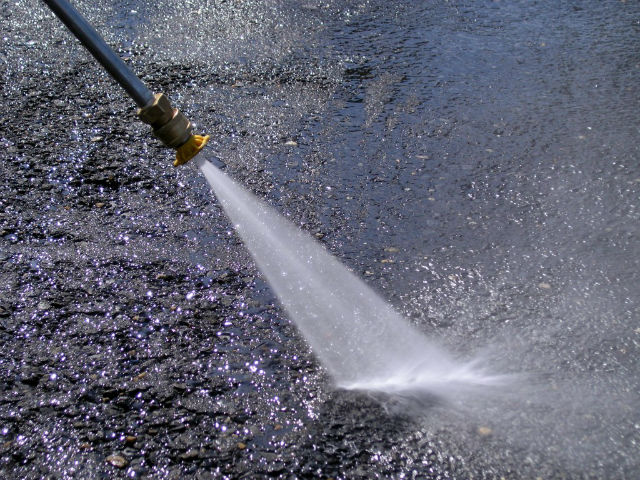 Pressure cleaning is undoubtedly the most effective way of restoring your pavers to near-new conditions. The trouble with other paver cleaning techniques is that they are too manual intensive and results can often be disappointing.
There is no shortage of online cleaning guides which claim you can use a stiff bristled brush and some bleach to restore the lustre of your paving stones. But in the real world, this is a massive task!
Manually scrubbing each paver and trying to wrangle the brush into the corners of the pavers is quite simply a waste of time.
Warning: As with any home maintenance task it is important that you use the appropriate personal protective equipment. Ensure that all of your equipment is in good working order and follow the manufacturers instructions.
The Pressure Cleaning Process
Remove weeds – Gently pull out weeds that might be growing in between pavers. In some instances, you might need to use a weed killer to prevent the regrowth of weeds.
Sweep leaves off – Whether you have a blower or a trusty broom, remove all leaves and debris off the driveway to ensure that you can examine the pavers and identify any stubborn stains before the pavers get wet. A good sweep will also remove any stones that might become projectiles when you start blasting water around.
The key pressure cleaning principle – Closer to the nozzle equals more pressure. Stubborn dirt and stains can be cleaned close range in front of the nozzle, but lighter dirt stains should be cleaned from a greater distance. The most common mistakes that amateur pressure cleaners make is to have the nozzle too close to the surface they are cleaning. A pressure nozzle on the end of your hose is not a pressure cleaner. You will not get enough force to dislodge the ingrained mould spores. All you will end up doing is just spreading the problem.
Tip from the pros – Attach a splash guard to your pressure cleaner. The guard stops water from splashing back. Nobody likes soggy socks. Most pressure cleaning kits have a splash guard, but if it is not included it is worth the extra investment.
Aim your flow – Try and concentrate the flow of the nozzle to the face of the paver as opposed to the edges. If you hit the angles wrong you can dislodge the pavers and cause yourself more work. Professional pressure cleaning companies use rotary surface cleaners that clean every edge of the paver and produce a more thorough and longer-lasting clean.
Work from the top down – If there is a slope on your driveway, work from the high side and follow the curve down. This will ensure that you can rinse the dirt off the driveway. Avoid directing the flow towards your house, otherwise you might need to pressure clean your house as well!
Don't go overboard – A common mistake that a lot of property owners fall for is trying to use too much pressure. They spin the dial to maximum pressure believing that will provide the ultimate clean. Unfortunately, that will just weaken the pavers as all of the deep jointing sand will be removed. The goal is to gently clean and rinse the pavers, as opposed to blasting a layer of the paver off to reveal fresh concrete underneath.
Angles are important – Keep the nozzle at around 45 degrees to ensure that the pavers are not damaged. You may be tempted to use the nozzle vertically as this would provide an even and thorough clean, but this will actually just damage the tiles and ingrained sand.
Be consistent – Work with long consistent sweeps across the pavers. Concentration is needed to ensure that each paver is evenly cleaned.
Replace sand – You may need to apply jointing sand to your pavers to ensure they are strong and durable. Don't just use standard river sand, you will need either kiln dried sand or polymeric sand.
Regular maintenance of your pavers will ensure that you will not need to pressure clean your pavers more than once a year. If you are not confident using high-powered pressure cleaners, contact a local pressure cleaning company to do the job for you. Don't risk injury or damage to your property by misusing pressure washing machinery.
My pavers are sealed, can I still use a pressure cleaner on them?
If you have sealed pavers you are doing well to ensure that you are maximising the lifespan of your pavers. Pavers that have a sealant applied are fine to be pressure cleaned. Depending on the condition of the sealant you will probably only need to use a soft-wash setting in order to produce good results.
The Pressure Clean Experts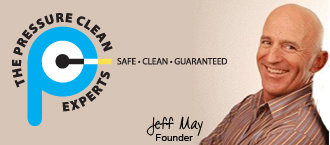 Based on the Sunshine Coast of Queensland, The Pressure Clean Experts is a team of experienced pressure washing technicians that provide first-rate high-pressure cleaning services for commercial, strata and residential properties.
As The Pressure Clean Experts use industrial strength machinery they can produce outstanding results that can not be replicated using standard commercial pressure washing equipment.
The Pressure Clean Experts service the entire Sunshine Coast region and provide free pressure washing quotes. For more information visit the Pressure Cleaners Sunshine Coast website.
The Pressure Clean Experts
Sunshine Coast pressure cleaning and all the way to North Brisbane
Address: 20 Robert St, Kunda Park QLD 4556
Phone: 0421 466 300