"He's happy as long as he has a roof over his head". Have you ever heard that said of someone? The roof is right up there with the walls as the most important component of any building. Ironically though, the roof cops the lion's share of the wear and tear from the wind, rain, and sun.
During the summer months, roof cavity temperatures soar to 70 degrees Celsius. Understandably then, all roofs need maintenance if we want them to keep doing their job. That is, protecting you from the weather.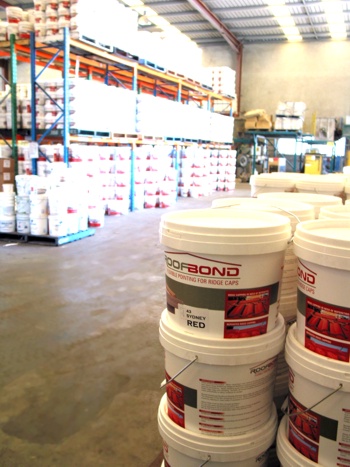 It's no wonder then, that heat reflective paints are fast becoming the maintenance solution of choice for many Australian home-owners. Here are the primary benefits of painting your roof with heat-reflective paint:
It protects the roofing membrane, extends its lifespan, and saves you money on replacing it prematurely.
It deflects heat from the sun, reducing the interior temperature of your home, and yep, you guessed it, saving you cash on your energy bill.
How to Apply Heat Reflective Paint
In this article, we'll walk you through the process of painting your roof with this innovative product, specifically using Thermobond HRC Heat Reflective Paint. While there are a plethora of different roof membranes on the market, this article focuses on the two most common choices for Australians, which are:
Metal roof sheets: zinc, steel, Colorbond or aluminium
Tile: concrete or terracotta (non-glazed only)
Without further ado, let's get to the point!
---
How to Apply Heat Reflective Paint on Steel (Tin) Roof Sheets
Thoroughly clean the roof and gutters removing all debris
Disconnect all downpipes
Tighten all screws or nails and make sure there are no loose sheets or fasteners
Replace any sheets that are badly rusted
Use a wire brush to remove any flaky paint
Use a rust sealant or rust converter on any areas with more than just surface rust. Then leave it to dry for 24 hours
Spray the whole roof with a primer-sealer paint and then give it 24 hours to dry [Recommended product: Rustshield T Anti-Corrosive Metal Primer]
Check again for any flaky paint and carefully remove it with a light grade sandpaper
Liberally apply 2 coats [Recommended product: Thermobond HRC]
---
The process is much the same for Colorbond, zinc or aluminium roof sheets except for the following:
Firstly, DO NOT use a wire wheel on these kinds of roof sheets.
Doing so will cut through the protective zinc coating leading to much bigger issues and in the case of pure aluminium roof sheets it can even cut through the sheet completely. Use a pressure washer instead. Also, instead of using an antirust primer, you can just use a normal primer/sealer paint. [Recommended product: Shieldseal W plus]
If you notice considerable rust on this type of roof, it is best to have it looked at by a professional before going ahead.
---
How to Apply Heat Reflective Paint on Roofs with Non-Glazed Tiles
Clean the entire roof and gutters with a pressure washer
Repoint and re-bed the ridges where necessary
Change any broken tiles
If the roof has metal valleys that are rusted, follow the procedure for metal roofs in this article except for the final 2 coats since this can be done at the same time and with the same paint as the tiles
Spray one complete coat of sealer or primer [Recommended product: Shieldseal W]
Apply 2 thick coats of heat reflective paint [Recommended product: Thermobond HRC]
---
Having listed the above step by step overview of the process, here are a few insider tips from an industry professional we consulted on obtaining the optimum result:
Coverage
Roof paints take more than other paints, meaning you'll need to buy more litres for each square meter you paint. Although you should always read the recommended coverage of each product, a good rule of thumb to use for estimating is approximately 4 litres per square meter, not including your primer coats. This will ensure you have achieved a sufficient build-up of paint. Whilst you may be able to stretch it further than this, it is not advisable since a thinner coat will reduce the effectiveness of the paint.
Tools
We would recommend you use an airless spray gun for two reasons: Firstly, it will give a more beautiful, consistent finish.
Secondly, it is much, much less laborious. Painting an entire roof (especially if it's tiled) is a formidable task, to say the least! Of course, if you have the time and stamina and you are not too worried about getting a perfect finish: brush and roller is still OK.
Colour
For many heat reflective roof paints, dark colours are not available and for good reason. This is because darker colours work against the heat resistant properties of the paint, reducing the effectiveness of the product and the financial savings you can expect. Do yourself a favour and stick to lighter colours.
Surface Preparation
When pressure washing your roof, make sure that it is 100% dry before you apply any paint. For this reason, it is advisable to paint your roof during the warmer months when it is least likely to rain.
If after pressure washing you still see chalky, powdery discolouration on metal roof sheets, a little more elbow grease is in order. It's time to get a slightly abrasive cloth with some water and start scrubbing. This will guarantee the paint keys into the substrate properly.
Water Catchment
If you rely on the catchment of rainwater for drinking, remember that the paint will need to dry completely before you can safely drink water from it. For that reason, always disconnect your down-pipes that channel water to your water-tank BEFORE you start the project.
Be sure to read the manufacturer's instructions for the specific drying time.
Painting Roof Tiles
For more information on how to paint concrete roof tiles, check out our guide on how to paint concrete roof tiles.
---
Why use Thermobond HRC?
Thermobond HRC heat reflective paint has been proven to reduce the heat in your roof by 30%. This can result in significant maintenance and energy savings. It also helps to keep you more comfortable during those balmy summer months.
Thermobond HRC also comes with a 10-year warranty (provided it is applied as per the manufacturer's instructions).
After 7 days, drinking water is safe, after which you can reconnect your downpipes and use the water without any risk to you or your family's health.
Thermobond HRC is not just limited to roofing. If you have any walls facing the sun that are radiating excessive heat into your space, paint them with Thermobond HRC and enjoy the instant relief.
Produced by Shieldcoat, Thermobond HRC is the product of an Australian-owned company that understands the unique environmental conditions that characterise this sunburned country.
As a registered supplier of Thermobond HRC, Solution Industries can supply you with the product as well as with professional pointers on how to make your DIY roof painting project a success.
Give Solution Industries a call on 1300 737 208 or visit their website to explore their range of concrete paints and rendering supplies.
Solution Industries
Address: Leichhardt NSW 2040, Australia
Phone: 1300 737 208