Roof tiles have been used throughout Australia since 1844. Originally imported from Europe, local companies started hand making concrete roof tiles in Melbourne and Sydney in the 1920s. It comes as no surprise that these rugged roof coatings are still on some of Australia's most charismatic residential properties throughout the Eastern Coast of Australia.
Though they still may be waterproof and protecting your house from the elements, there can be a certain charm about roof tiles that is lost when they are covered in mould, bird droppings and fading in colour.
According to the CSIRO, lichens and moss will not eat into your roof tiles, but they will make your house appear aged and not properly maintained.
---
Warning: Beware of roof restoration companies that appear suddenly in your suburb. There have been scams throughout Australia of dodgy roof restoration companies that advertise extensively in a certain location, produce poor quality work, then move onto another region. Ask for identification and references before hiring any construction or property maintenance company.
---
How to Paint Concrete Roof Tiles
The following guide is based on the manufacturer's instructions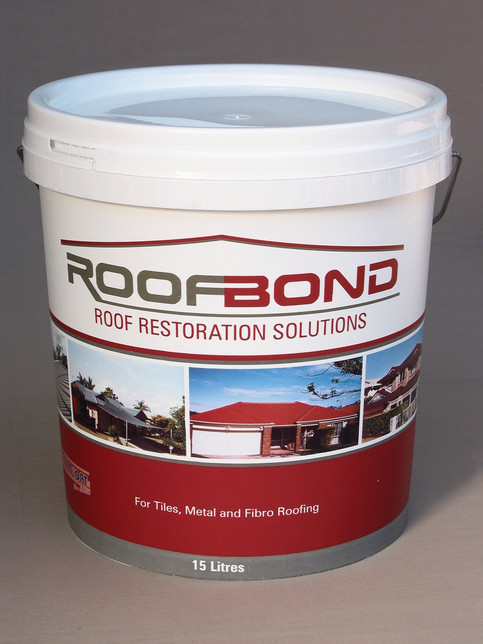 of Roofbond Roof Paint. Produced by Shieldcoat, Roofbond Roof Paint is one of the leading roof coating options used by professional roof restoration experts.
Preparation
There is no doubting that this is the most vital step of the job. Remove downpipes and create a safe working environment for you and anyone working with you.
Shieldcoat recommends using Mouldshield C to thoroughly remove all lichens, moss and mould from the roof.
Pressure blast the roof with at least 300 p.s.i.
Ensure that ridge capping tiles are in good condition. Use Roofbond Flexible Pointing to the sides and joints of the ridge capping if needed. This will ensure that ridge caps won't crack and come off in extreme temperatures. For a complete guide to bedding and pointing your roof, here is a helpful guide –Flexible Roof Pointing Guide.
If on inspection you realise that your valleys are rusted, you will need to apply an acrylic sealer primer. This will inhibit rust and provide the ideal substrate to apply a finished coat.
Apply one coat of Shieldseal W with 517 airless tip.
Apply two coats of Roofbond Roof Paint with 517 airless tip, either clear glaze or coloured. If you want to restore your roof to give it the original shine, Roofbond Roof Paint clear glaze is the ideal option. The surface will be dry in 4-5 hours and hard dry in 4-5 days. The roof will be safe to collect rainwater for drinking after 7 days.
Roofbond Roof Paint is designed to be applied with a spray gun to provide a superior finish. You can use a roller, but you will not be able to produce the same finish.
---
Note: Roofbond Roof Paint comes with a 10-year warranty if you have it applied by a qualified professional painter.
---
To extend the lifespan of your new roof coating, consider applying Sheildcoat NanoProtect SC-96 which will significantly increase the integrity and durability of your roof coatings. With increased UV resistance, excellent scratch resistance and superior gloss retention, NanoProtect SC-96 comes with a 12-year guarantee.
To discover more guides on how to professionally apply roof coatings for various materials, come and visit the Solution Industries website today.
---
Solution Industries
Based in Sydney, Solution Industries is a paint and render supplier that provides tradesmen, DIYers and contractors with cut-price building and construction supplies. Offering competitive 'direct from manufacturer' prices, Solution Industries takes the hassle out of sourcing specialised painting and rendering materials. With free delivery to capital cities and heavily discounted delivery to regional areas, Solution Industries is where savvy industry professionals shop.
The team of industry professionals is also committed to providing expert application guides for the products they provide. Some of the most popular guides are:
Come and discover some of the awesome DIY guides today on the company website – www.solutionindustries.com.au