Question: I want to create a stylish backyard, but I only have limited space. Where should I start?
Answer: Sometimes it feels that the smaller the space, the more challenging the landscaping.
Sure there is a lot more elbow grease that is required in creating a large designer landscape. But to try and create a luxurious outdoor space in a cramped environment can provide quite the mental challenge.
But before you give up and leave your balcony for the birds, read on to explore some stunning tips that might just provide you with a high end space that you may have thought was beyond the scope of your property.
Take The Time To Plan – You can maximise your petite patch of greenery if you create a landscape plan that wisely utilises your space. Your goal is to create an illusion of a larger space. Unfortunately, this might be harder than it sounds. You have a few options that can help. There are some free apps which allow you to visualise your space and share your ideas with others. One good option is iScape as it allows you to test out the Pro version for free, although you might get slightly frustrated at some of the limitations if you only rely on the free version. Pro Landscape Companion is another app that allows you to create impressive landscape designs on your tablet although it is targeted at industry professionals that are seeking 3D modelling software with a full suite of functions.
Colour – We all recognise the dramatic effect that colour can have on our mood. Once you have established what type of space you want to create, you can choose a colour palette that will help establish your intended atmosphere. Create a dynamic entertaining space with a vivid splashing of colour. A monochrome palette will ensure the perfect space for contemplative meditation.
Multitasking Horticulture – Incorporate a small herb garden into your space. It does not matter how small your area is, there is always enough space for a herb garden. Perch a small pot of herbs on your windowsill and not only will it add a refreshing dose of green, but it will provide you with the cheapest and most convenient way to enhance your meals with fresh flavours.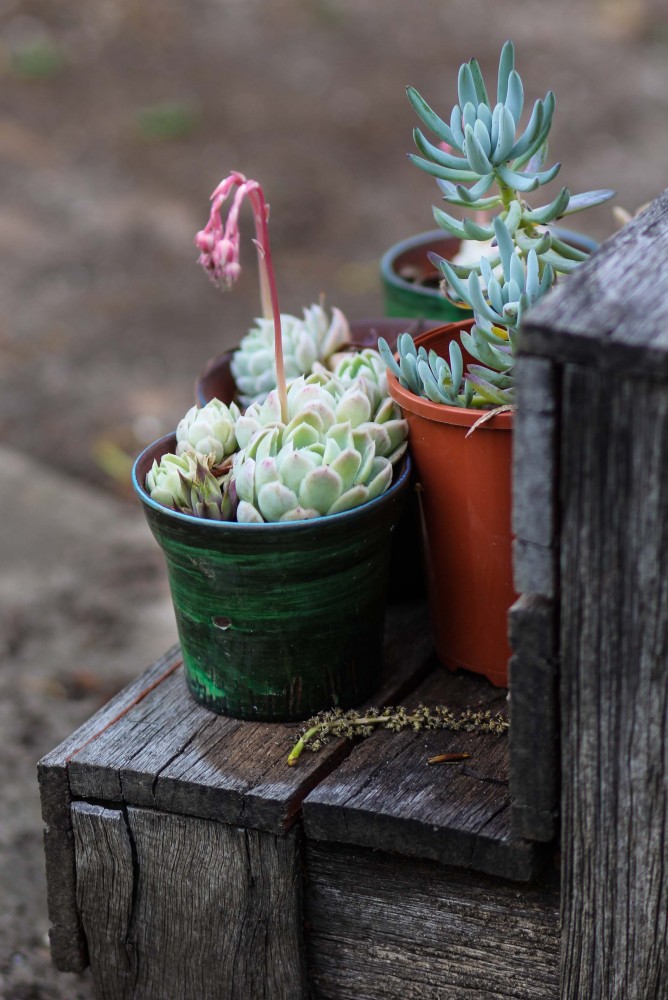 Use A Top Dressing On Pots – With small spaces, it is important that you take care of the minor details. With so little space for the eye to explore, you can be sure that what might appear to be a minor issue in a large garden will seem like a major mishap in a cramped environment. Add elegant top dressings on your pots and containers to create a unified and aesthetically appealing image to your potted gardens. Popular top dressings include pebbles, wood chips and slate pieces. Not only will it stop you from getting frustrated at small weeds growing out of your pots but it will also ensure that water does not rapidly evaporate from your herb garden too quickly.
Choose Light Weight Furniture – While there is an abundance of stunning teak furniture on the market, it may not be the best option for a small garden space. The extra bulk can make a small space feel even tighter. Instead, opt for a lightweight table and chair setting that is raised off the floor with tall legs. This will draw the eye upwards and make the floor space not appear too busy. Lightweight construction also ensures the outdoor setting is easy to move around at any minute so that you can create an off the cuff dance floor.
Warm Lighting – Create a romantic space straight out of an outdoor design magazine by decorating with small pendant lights or fairy lights. When tactfully placed around the extremities of your outdoor space you will create an inviting space with the illusion of depth. Fairy lights placed over your mirrors create an affordable way to double the bling as the lights sparkle in the reflection.
Call In The Professionals – The savviest option to ensure that you maximise your limited space is to employ the services of a professional landscape designer. With years of experience utilising horticultural elements to design tailored spaces, landscape architects are your perfect ally to optimise your outdoor space.
Who Is Dapple Landscape Design?
Based in Western Sydney, Dapple Landscape Design is a highly recommended landscape architectural firm that specialises in high end residential garden designs. With a reputation for producing exquisitely styled contemporary garden designs with quick turnarounds, Dapple Landscape Design is the team you can rely on when you want the job done right the first time. To discover the story of Dapple Landscape Design come and visit the landscape design Sydney website.
Whether you have a tiny courtyard that you want to transform into a relaxing retreat or a large family backyard that you want to upgrade to add equity to your property, Dapple Landscape Design has the skills, expertise and personnel to more than match your expectations.
Some of the services the team provides include:
Planting Plans
Garden Renovations
3D Modelling
Hardscape Plans
Landscape DA Plans
Garden Design
Commercial Landscape Plans
Pool Landscaping
Dapple Landscape Design can create a useable tropical oasis out of even the smallest area. Julian Saw and the multi-skilled team believe that everyone can have their own little garden sanctuary. If you have been searching for a landscape consultancy firm that has the skills and passion to create visually stunning outdoor spaces that perfectly incorporate functional practicality, you are going to love Dapple Landscape Design.
The team of fully trained landscape designers offer all of their design services in person or over online consultation. To explore the complete range of services the team offers and to book an appointment with the lead landscape architect, visit the company website today.
Dapple Landscape Design
Address: Ellison Rd, Springwood NSW 2777
Phone: 0406 825 430