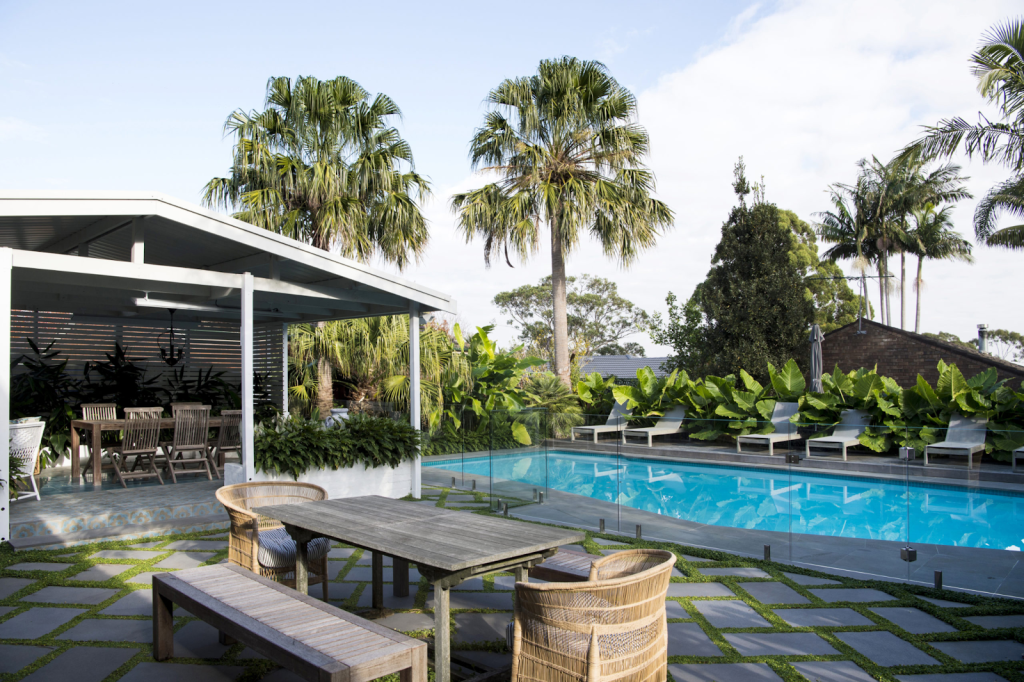 Picture yourself lounging by a pristine pool surrounded by lush greenery, elegant water features, and exquisite design elements. Does it sound good? It sounds good to me!
Pools no longer have to be basic. These days, a Sydney pool builder can work wonders with your garden to make a tropical paradise that will be both beautiful and functional! This past year has been full of fantastic pool landscaping trends that can really take your garden to the next level. Whether you are looking for something classy and elegant or want to go outrageous with a tropical and funky pool paradise, 2023 has a trend for you!
Luxury pool landscape design and construction transforms your outdoor space into a haven of relaxation and opulence. In this article, we'll explore some of the best and most inspiring pool ideas of 2023 to help you create the ultimate luxury poolside paradise!
Tropical Paradise
The first trend we have to talk about is designing a pool that looks like a tropical sanctuary! Designing a luxury paradise pool involves capturing the essence of a lush, exotic oasis. Begin by choosing natural materials like bamboo, teak, and stone for the pool's surroundings. Opt for a freeform pool shape with a gentle, organic flow to mimic a natural lagoon!
If you want to capture that tropical feel, it's also important to surround the pool with abundant tropical vegetation, including palm trees, banana plants, and vibrant flowers. You can even integrate waterfalls, rock formations, and a meandering stream to create a sense of adventure! Tiki torches, thatched-roof cabanas, and comfortable lounge furniture can all complete the tropical ambience. The result is a luxurious retreat that transports you to a serene and opulent exotic paradise!
Infinity Pools
Designing a luxury infinity pool involves creating a visually stunning and seamless connection with the surrounding landscape! Start with a minimalist, sleek design, often in geometric shapes like a rectangle or an L-shape. Use premium materials like glass tiles, natural stone, or polished concrete for the pool's finish and surround! Try to position the pool to overlook a captivating view, whether it's a stunning skyline, a serene natural setting, or an expansive ocean. You can incorporate an infinity edge on one or more sides to create the illusion of water extending indefinitely. Elegant, comfortable poolside furnishings, mood lighting, and well-placed landscaping complete the opulent experience of a luxury infinity pool!
Mediterranean Escape
To create a luxurious Mediterranean pool design, start with the fundamentals of this timeless style! Choose materials such as white travertine or limestone for the pool deck to emulate the bright, coastal ambience. Using blue mosaic tiles for the pool's interior can mimic the effect of being sat by the Mediterranean's crystal-clear waters. You can also enhance the atmosphere with classic Mediterranean elements like terracotta accents, wrought iron railings, and colourful ceramic pottery!
As for greenery, you can surround the pool with lush landscaping, including olive trees, fragrant lavender, and cascading bougainvillaea! Add elegant seating areas and pergolas draped with vines to complete the look and create a space that embodies Mediterranean luxury and relaxation!
Modern & Contemporary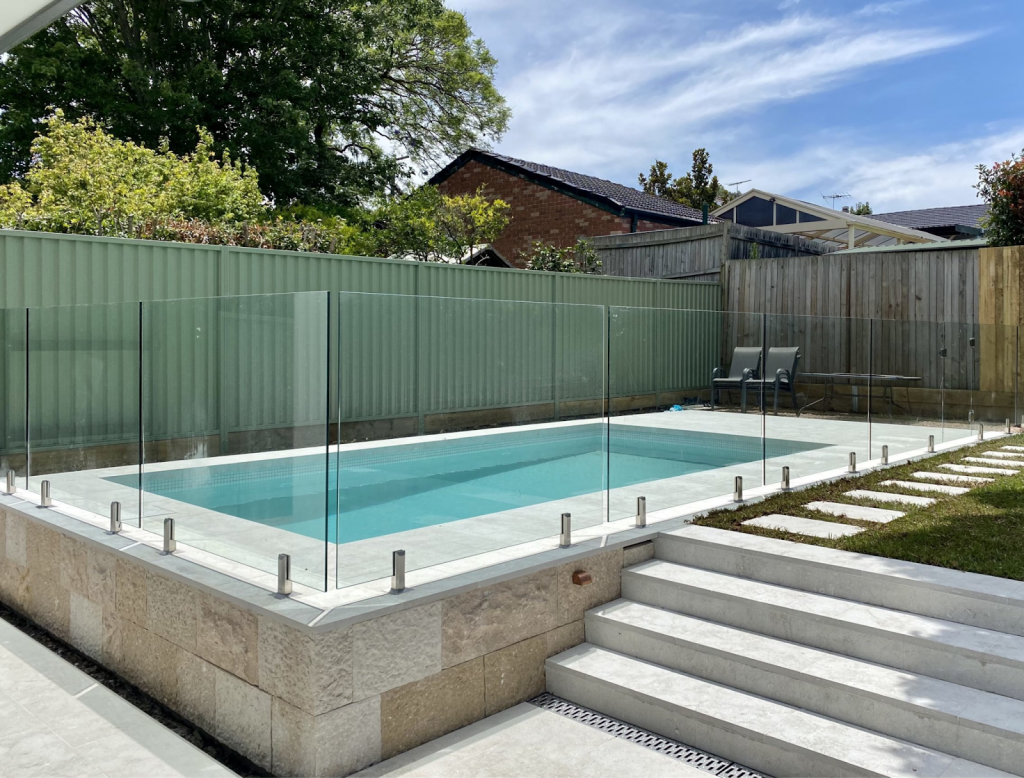 If you are looking for a more straightforward, more modern style, a contemporary pool could be the right choice! This style revolves around clean lines and modern aesthetics with a focus on functionality. Choose geometric shapes such as rectangles or squares for the pool's design! You can also utilise materials like glass tiles, concrete, or polished stone for a sleek finish. Glass pool guards look modern and also help make your pool safer!
Opt for a minimalist colour palette with neutral tones and a pop of vibrant colour if you want to. Think about adding modern features like LED lighting, a sleek pool deck, and an automated pool cover for convenience. Outdoor seating areas can be incorporated with comfortable, stylish furniture and consider integrating a water feature or fire element for a touch of sophistication. The result is a chic, functional, and aesthetically pleasing contemporary pool design!
Zen Garden
Creating a Zen garden-style pool involves crafting a tranquil and harmonious environment that is ideal for relaxation and reflection. Start with a minimalist pool design, characterised by clean lines and simple shapes, such as rectangular or square, to maintain visual balance.
Choose natural materials like stone, wood, and gravel for the pool deck and surroundings. A wooden deck or stone pavers can add to the Zen garden aesthetic. Incorporate soothing water features into your pool design, such as a gentle waterfall, a bubbling fountain, or a serene koi pond. These elements introduce calming sounds and a sense of movement to the space!
When it comes to plants, select Zen-inspired greenery like bamboo, Japanese maples, bonsai trees, and ornamental grasses, arranging them strategically around the pool to create a feeling of enclosure and tranquillity! Your Sydney pool builder will be able to help you in choosing the right plants for this style.
You can also ensure privacy with bamboo screens, tall hedges, or shoji screens, maintaining a sense of seclusion for your Zen retreat. By incorporating these elements, you can transform your pool area into a Zen garden-style oasis, fostering serenity, balance, and a profound sense of peace within your own outdoor sanctuary!
Outdoor Kitchen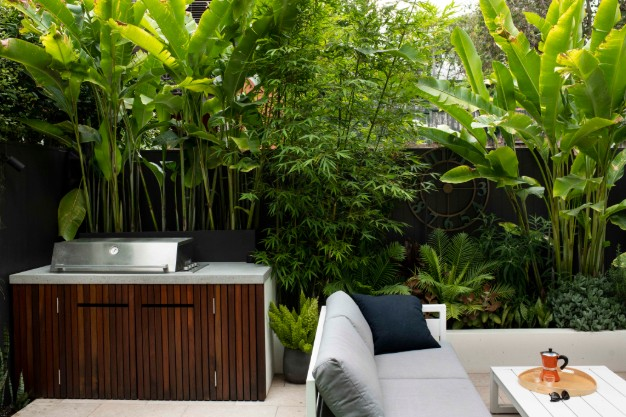 Incorporating an outdoor kitchen and bar into your pool landscaping design elevates the entire outdoor experience. Start with a well-designed kitchen island featuring high-end appliances like a grill, refrigerator, and sink, complemented by ample counter space for food preparation. Use durable and stylish materials like granite or quartz countertops for an elegant touch.
Position the bar strategically to encourage social interaction, complete with comfortable barstools and mood lighting. Consider a pergola or cabana to provide shade and protection from the elements. This pool, kitchen, and bar combination creates a seamless outdoor entertainment space, perfect for hosting gatherings and enjoying poolside meals and drinks in style!
Classic & Elegant
The last 2023 trend we will share today is the classic yet elegant style! Designing a sleek pool requires careful attention to sophistication and aesthetics. This is a timeless style that a professional Sydney pool builder will be able to bring to life! Opt for simple shapes, such as a classic rectangular or oval pool, to convey a sense of refinement. Use high-quality materials like natural stone, travertine, or marble for the pool deck, and consider elegant finishes like mosaic tiles for the pool interior.
Incorporate tasteful water features, such as fountains or cascading waterfalls, to add a touch of luxury. Surround the pool with lush landscaping, well-manicured hedges, and fragrant flowers to create a visually pleasing atmosphere. High-end lighting, stylish lounge furniture, and chic poolside accessories complete the look, transforming your pool area into an elegant and inviting space!